1-6 June 2015 –

Switzerland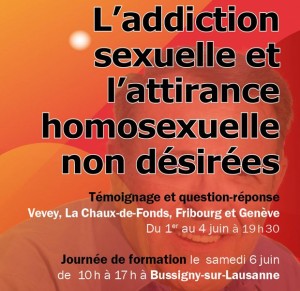 Monday June 1 -Vevey –
La Passerelle – avenue de Gilamont 34, 1800 – 19h00-21h00
Tuesday June 2 – La Chaux-de-Fonds –
Eg. de Reveil, rue du Nord 116, 2300 – 19h00-21h00
Wednesday June 3 – Fribourg
Salle de paroisse St-Jean, Planche-Supérieur 39, 1700 – 19h00-21h00
Thursday June 4 – Geneva –
Eg. Missionaire évangélique, Rue de la navigatino 15, 1201 – 19h00-21h00
Saturday June 6 – Lausanne, Day Seminar – 10h00 . 16h30 –
à Bussigny-sur-Lausanne, église Lazare, chemin du Vallon 24, 1030

Day Seminar Topics: Dysfunctional Families and Shame, Sexual Abuse, Understanding Same Sex Attraction,Sexual Addiction and Pornography—with newly translated into French manual.
for more information contact: Paul & Genevieve Marsh – in Lausanne (021) 653  520
8-14 June – Kiev, Ukraine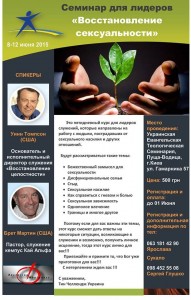 MONDAY 8 to FRIDAY 12 June –5 day Restoring Wholeness Equipping Leaders Course with newly translated into Russian manual.
Sunday 14 June – morning and evening – various Churches
Monday  15 June– One Day Open Seminar  – 10am-5pm – with Emmanuil/CBN Television.
for more information contact: 38 098 452 5508 –
email: uateenchallenge@gmail.org–Att: Sergey/ Anna