1 Peter 2:9-12
9 But you are a chosen race, a royal priesthood, a dedicated nation, [God's] own purchased, special people,
that you may set forth the wonderful deeds and display the virtues and perfections of Him Who called you out of darkness into His marvelous light.
[Exod. 19:5, 6.]
10 Once you were not a people [at all], but now you are God's people; once you were unpitied, but now you are pitied and have received mercy. [Hos. 2:23.]
11 Beloved, I implore you as aliens and strangers and exiles [in this world] to abstain from the sensual urges
(the evil desires, the passions of the flesh, your lower nature) that wage war against the soul.
12 Conduct yourselves properly (honorably, righteously) among the Gentiles, so that, although they may slander you as evildoers,
[yet] they may by witnessing your good deeds [come to] glorify God in the day of inspection
[when God shall look upon you wanderers as a pastor or shepherd looks over his flock].
---
notes…

from Wynn
The second quarter of 2016 has been extremely busy.  I want to first thank everyone who supported and prayed for Restoring Wholeness Ministries, without you we could not continue the work God has set out for us to do…and yes, I know you've heard this many times from every ministry and missionary you know…but for us it is where the rubber meets the road.  We could not do this ministry without the favour of our Father and your faithfulness and help.  Bless you!!!
I'd like to share 4 major events that have occurred in the last couple of months.
First of all, I ministered in England and both campuses of Eternity Church, Norwich and Downton Market. Pastor Paddy Venner and his wife Jennike invited Restoring Wholeness to minister in both churches and hold workshops as well.  It was humbling to see how well these two congregations were receptive to the message. Both congregations are filled with true children of God who love Him and want to reflect His image. Thank you, all who attended while I was there both the services on Sunday the 5th and the two workshops we held on Monday and Tuesday evening. We look forward to the next time we are able to be with you…and pray that my wife Judi, will be able to make the trip as well.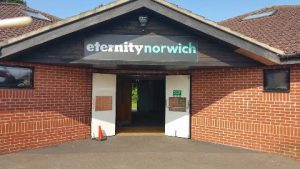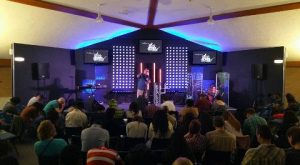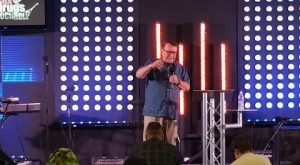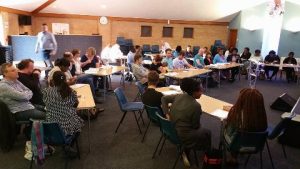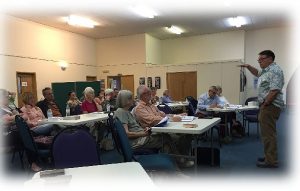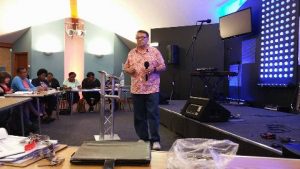 The second major event, Judi and I traveled to Lompoc, California to hold a Restoring Wholeness One Day Seminar – "From Shame to Intimacy with Christ".  About 45 people attended. We were thrilled to have Rob Bedell join us for the Saturday seminar.  I met Rob through University of Arizona and Chi Alpha. He went through our support group and our leadership training.  He moved away due to his commitment to the US Air Force. Stationed now in Northern California he was able to drive down and help.  What a great testimony he has and I am very proud of his courage to tell it 'like was – and is now'!  Judi did an amazing job co-leading the women's small group sessions with Pastor Rita.  What a team!  On Sunday, 26th of June I spoke in the two services at Crossroads Community Church. Thanks to our Father for showing up and doing what only He can do in the lives of those who were present.  What an amazing worship and music team…the entire two services was filled with God's Spirit. This congregation has become family to Judi and I. Pastor Tom Horton mentioned during the service, that we have known and been friends for 11 years.  During my furloughs from my mission days in Europe and in South Africa, Crossroads Community Church and the Horton's always created a welcome and hospitable place to share what God had placed on my heart.  It always felt like home…and now Judi feels the same way as well.  Bless you!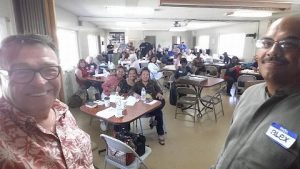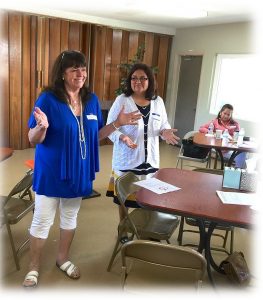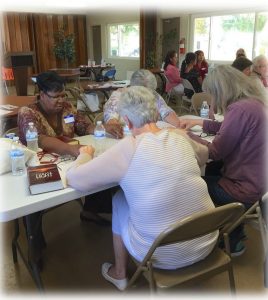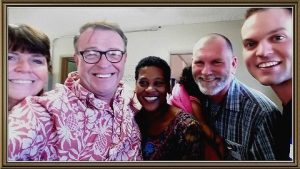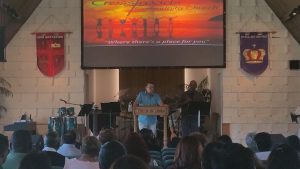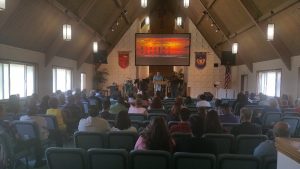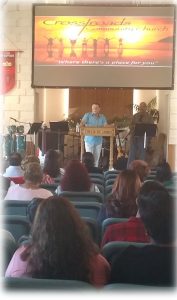 We were blessed to be asked to speak in the sister Spanish church of Crossroads, Iglesia de Dios de la Profecia. It was an absolute pleasure to meet and work with Pastor Maria as she translated the entire sermon. This wonderful church is made up of believers from Central America and Mexico who now live in the Lompoc area.  The moment I walked in the door I felt right at home…down to the wonderful latin food that is so familiar to my growing up. We believe we have a new family in Lompoc to add to the existing one we have had for 11 years.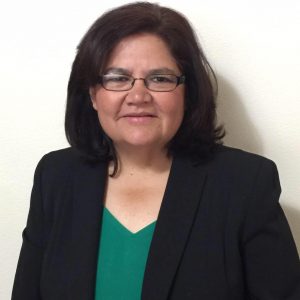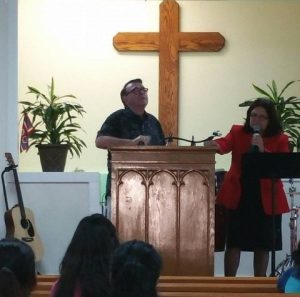 Third, as you know from the last newsletter we were accepted into Restored Hope Network – Restoring Hope • Proclaiming Truth • Equipping Churches

Their annual conference was held in Chicago this year – the same dates as we were in Lompoc, California 23-25 June.


Brett Martin, my right hand man in RW who is leading RW at Northern Arizona University, and Holly his wife, were our RW representatives at the conference.  Our RW team in Minneapolis, headed by Michael Newland attended as well. It was amazing to have 4-5 Restoring Wholeness team members represented.  This year's conference was a crystal clear refection of the love of our Father. I'm so sorry I missed it.  I wish I could have been there…next year I will be there…it's on the calendar and it will be on the West Coast.
And fourth, exciting news…God has opened a door for me to go to South Africa – 26 July to 8 August…a short but powerful 2 weeks to speak and connect with
my past Restoring Wholeness team, board members and friends. I will also be speaking in 2 or 3 churches, Edge Church, Edgemead and Life Church, Somerset West. We will also hold a leadership training workshop at Life Church, Sea Point, the church I was based in while I ministered in South Africa for 14 years.
Judi and I truly believe that this is an opportunity that our Father has provided, albeit short. And yes, I know I won't be able to see everyone…but I'll give it my best shot! Hope some of you SA friends are free during the day!  We ask you to join us in prayer regarding this soon-coming ministry trip. If God speaks to you about partnering with Restoring Wholeness in making this trip successful…that would be an awesome blessing. He has provided part of what I need but I do need help. Thank you.
---
notes…

from Judi
It has turned out to be a very busy spring and summer.  It started with my visit to see my son and his family in San Antonio, Texas.  An interesting train ride that takes around 16 hours. Arriving around 3am and taking by my first Uber ride to their home. I loved being with them and my grandkids. They grew so fast since my trip last year. I'm already planning my next visit with them…this time Wynn will be able to go with me.
Wynn traveled to the UK about 18 days after I got home. He spoke and taught workshops in two churches – both pastored by Paddy and Jennike Venner.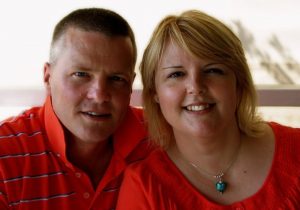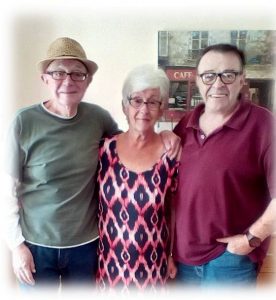 I'm hoping next time I'll be able to go. Interesting, Wynn has known them since 1999…and in the past 3 years they have become such lovely friends.
Wynn also had the opportunity to reconnect with long time close friends Dai and Shirley Jenkins who are like a brother and sister to him…which I'm so very glad he did. I really would have liked to been there to finally meet them in person, one day Lord willing.
Most recently we made a trip to Lompoc, California. There was a workshop on Saturday at Crossroads Community Church in Lompoc. We love the people there and they are always an encouragement to us. Loved spending the day with Pastors' Rita and Tom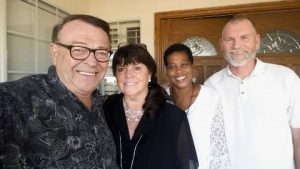 in between our 2 Sunday Services with them and the evening Service at their Spanish speaking sister church Iglesia de Dios de lat Profecia, with Pastor Maria Ruano. Another fellowship that have an amazing church family. We had the most marvelous Central American food afterwards from some very talented cooks. It was some of the best Latin cuisine, simply amazing.
We were blessed to have a "pit stop" on the way to Lompoc, and on the way back, at Wynn's nephew and niece's home in Rancho Cucamonga. What a blessing they are to open their home and allow us to have a good nights's rest and enjoy their company before having to drive back to Tucson.
On a side note, Wynn and I were able to spend about 1.5 hours in Pismo Beach, California where we grabbed a bowl of THE BEST clam chowder at "Splash Cafe". Someday we are hoping to take a REAL vacation. For now, we just grab those moments during our ministry trips. An hour here or there, spending the night with family and just enjoying the ride. Life is an adventure and we do enjoy the journey!
Where is your journey taking you? Are you taking time to enjoy it? There may be things that are not in the plan or something you must do that's not enjoyable. The goal is important – but always remember to enjoy the journey as you go!  "For I know the plans and thoughts that I have for you,' says the Lord, 'plans for peace and well-being and not for disaster to give you a future and a hope".
---
Prayer Needs
Please pray for Wynn as he ministers in Cape Town South Africa – 31 July and 7 August 2016
He will speak in 2 Sunday church services. Click here for more info

Please continue to pray: for our 2016-2017 upcoming RW Support Groups and participants.
Thank you for your consistent faithfulness in prayer and support!  God bless you!  
Please pray: for plans to return to YWAM and Teen Challenge, CBN TV in Ukraine as well as a one day seminar in Switzerland in 2017.
Please continue to pray for the people of Ukraine, Switzerland, South Africa and England.
Please continue to pray for the participants of our last RW Support Group.
Please pray for new, stable and anointed leaders.
Please pray for connections with pastors and church leaders here in Arizona and the USA.
Please pray for a much needed second newer, reliable car.
US Tax Deductible Donations (status pending)
Make check or money order out to:
Restoring Wholeness Ministries USA
P.O. Box 64907,
Tucson, Arizona,
85728-4907
Or you can make a bank transfer. Please let us know if this plan works better for you and we'll send you the info via e-mail.
USA at RestoringWholeness.org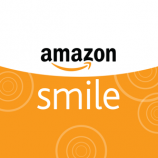 Please consider donating to Restoring Wholeness Ministries


by shopping on Amazon –

CLICK HERE for more info
God bless you for considering partnering with us in our mission for 2016!
_________________________________________________________________________________________________________

CONTACT OR DONATIONS:
Wynn & Judi Thompson, P.O. Box 64907, Tucson, 85728-4907
Office: +1-520-887-0115
USA at RestoringWholeness.org – www.RestoringWholeness.org
Donations to RW in the USA are tax deductible.
Personal support to Wynn & Judi, although not deductible in the USA, is a very thankful provision!