Today I was reminded of that very thing. I decided to clean out my car. My faithful 2006 Chevy HHR. I purchased it in 2007 and it has served me well.
I was widowed in 2007 and moved home with my parents. Soon it was evident that I was going to need a car to help drive them around. My youngest son was also expecting my first grandson and knew I was going to need some extra room.  This car was perfect for my mom to get into and out of. She had been in a wheelchair for a while and some cars were hard for her to maneuver. I could also put her wheelchair in the back without having to lift it so high. It seemed the perfect little car.
It has been a blessing. When getting married in 2009 it was big enough to pack up my remaining things and travel to Bishop for our wedding. Then also Wynn's things and some wedding items all tucked into that car.  On to Tucson and now I've had it for 10 years with about 180K miles on it.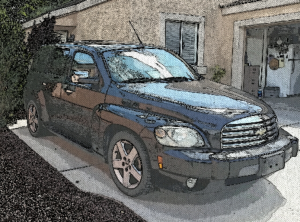 Now to the real story. As I was cleaning the car out today there were some things that caught my attention. The scuff marks on the back of the car where my dad would allow the wheelchair to scrape as he loaded it were still there. When it happened, I remember I cringed but told my dad "don't worry about it. I got this car to be able to drive you around". When my oldest son Mike, dumped his 40 oz sugar soft drink between the front seats and all over the floor he felt so bad. I remember telling him that it was no problem. Accidents happen. We did our best to clean it up but all the while I did not want him to feel bad. It was an accident. And when cleaning the back windows, I can still see the flecks of shoe polish that was used to write "just married" on the back-side windows that we have never been able to remove completely.
Cleaning the car today was a journey down memory lane. There were many soils, scrapes and signs of events over the last 10 years. As I saw each memory I was thankful for how I handled each event. Never with anger but with compassion and love. Not without disappointment that another mar was made, but knowing a relationship is far more valuable than things. The scrapes, stains and memories I was thankful for. I am thankful that I did not get angry, show or say things that could have hurt others. Just think…today I had precious memories of the "stuff" life often gives us instead of regret over words or actions that could have happened.
This story was about my car but in fact it reflects how we need live our life. Full of God's grace, love and forgiveness. I want to make sure I continue in this same attitude as I walk out the rest of my life. I may not have approached all circumstances in this way but it is my continued goal.
What do you do when life happens?