personal notes from Brett…Ukraine missions trip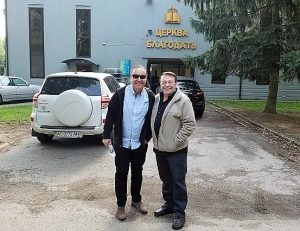 How can I begin to convey in a newsletter all the incredible things that God did in the hearts of the Ukrainian people from a three week missionary journey I recently returned home from?  First of all, thank you to those who prayed and financially supported me on this mission! Let me share a little history about me.
In 2000, when I moved to Tucson to join the Chi Alpha staff at the University of Arizona, God spoke to my heart that He wanted me to minister to the emotional and spiritual needs of students who were navigating relational  brokenness and sexual addictions.  He began to open my eyes to this incredible need.  Talk about feeling overwhelmed and scared! How do I even begin to do this?  And on top of that, I didn't want to talk about these subjects!!!  I hadn't even begun feeling the least bit comfortable talking about my own journey of finding hope and freedom from pornography and the broken and hurting areas in my life. Yet, I knew not talking about something doesn't make it go away. I rarely heard any pastor discuss with vulnerability, their journey of finding hope from addiction and pain in these areas!
Until 2007, God used my feeble efforts to minister hope and encouragement to students.  If nothing else, they found a safe, listening ear without judgment to practice vulnerability as I directed them to Christ.  In the summer of 2007, on a Chi Alpha mission trip to Cape Town, South Africa, God had a divine appointment in store for me. My faith was challenged and encouraged as I met one of the counseling pastors on staff of the Assemblies of God church we partnered with.  I was amazed at the story of redemption and was filled with faith as I listened to Pastor Wynn's story. You can read his encouraging story @ http://restoringwholeness.org/wynns-story/. Talk about miraculous! Jesus is the God of the impossible! If God could do this for Wynn, He could do this for anyone, no matter what challenge they faced. We see in scripture that Jesus had a ministry to those who were sexually broken, hurting and lost. We see this when He ministered to the woman at the well and when He ministered to the woman caught in adultery.  Yet it's hard for one to believe that God desires to redeem broken areas of our sexuality when those struggling and broken experience shame and judgment coming from the church. Often many pastors are afraid to address issues of sexuality from the pulpit. Maybe they feel overwhelmed by the incredible emotional need this may demand. Or maybe they are secretly struggling themselves, perhaps facing the pressures of leadership, and may fear that their polished image of perfection may shatter if any attempt at vulnerability were made. To compound the struggle, the world around us loudly declares "If it feels good, do it!"; "You were just born this way"; or "You are a hate-filled bigot if you hold to any form of biblical morality or standard!" These pressures, expectations, emotions and voices are enough to silence anyone! Yet I encountered the opposite when I met Pastor Wynn, and was exposed to his ministry. I met a man who was filled with compassion, integrity, courage, and humility.  In 2009, I was privileged to partner and work alongside Restoring Wholeness Ministries when Pastor Wynn and his wife Judi moved to Tucson.  I wanted to glean as much as I could from his ministry experience and the Restoring Wholeness curriculum, so I could impart this message of hope and redemption to university students. I believe it is the call of the church to respond to the need of relational and sexual brokenness in such a way that brings restoration, redemption, and healing. This response should be free from shame and condemnation. It must respect, have mercy and hold a safe place for the individual who has been impacted by sexual abuse, sexual addictions, unwanted same sex attractions and pornography. Only when this happens, will the church be able to answer the incredible call to be the "salt" of the earth and "light" of the world she was destined to be.
Wynn summarized our most recent mission trip to the Ukraine in one word or theme, it is the word HOPE!!!  Everyone needs hope, without it, life is dismal to say the least.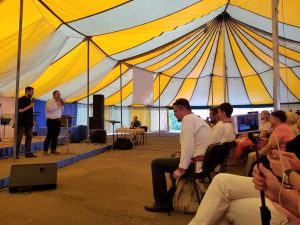 Pastors, leaders, and participants in our seminars and those hearing Pastor Wynn's testimony, experienced a change of mind and heart through hope!  The God of the Universe is able to do immeasurably more than all we ask or imagine, according to His power that is at work within us.
Eph. 3:20.  Restoring Wholeness was invited by key leaders and friends from CBN, Teen Challenge and YWAM to speak into and offer wisdom, experience and guidance for churches and Christian leaders in how to minister effectively with compassion and integrity into areas of relational and sexual brokenness, abuse, and  addictions.  We were also asked how the church should minister to the L.G.B.T.Q. community.  Historically, the church has done a terrible job of representing Christ and His love to those who are sexually broken, addicted, and living in alternative lifestyles.
The attitudes of judgement, fear, pride and even hatred are alive and well within the church, and many who are secretly and silently struggling in congregations, bible studies and families feel the intensity and toxicity of these emotions. In fact, at least five or six pastors that we met in the Ukraine, after hearing Pastor Wynn's story, confessed their sin of judgement of anyone in the gay lifestyle and acknowledged their lack of compassion and understanding. Many said God gave them a sense of compassion and empathy to minister to those who were hurting and struggling in their congregations if anyone needed or asked for help. They also saw how wounds and hurts from childhood can manifest into broken behaviours. Our ministry schedule was intense.  We were going non-stop for almost 3 weeks.  We started around 9 every morning and ended around 9 in the evening. And most days included one-on-one counselling sessions with at least one person that was crying out for a safe, listening ear without judgement and condemnation. One young man, that heard Wynn's story live on the internet the first day, travelled six hours by train just to spend one hour with Wynn. God gave both Wynn and me wisdom and inspiration as to what to say. The young man wept for quite a while as God began to minister to him. Two days later, Wynn received a message from him saying, "Thank you for your encouragement. I have a very good mood/attitude today. There is no despondency…I have HOPE!!!" Praise God!  Sometimes it takes being desperate and willing to do anything for our healing. Please pray for this young man.  This is just one story of countless others that experienced HOPE, maybe some for the first time.  As we were teaching, I would say most of the expressions on the faces in the audience was one of stone. Like a calf at a new gate. No smiles, and very minimal expressions of interest, yet after each day, we had numerous positive responses that expressed gratefulness in that someone was willing to speak openly and honestly into hurting areas of people's lives. In fact, the response was so great, we have been asked to return next year while they begin to gather leaders with a heart to minister hope to people so they can be trained to run Restoring Wholeness support groups in Ukraine.
There really is so much to say! The saying is appropriate, You really had to be there, to fully understand!!  Thank you again from the bottom of my heart to those who played a role with your prayers and finances that ministered HOPE to these precious people!! God's favour, anointing and presence was truly evident on this trip. We experienced new doors being open for ministry to the Ukraine people and truly experienced God's presence ministering thru us.
We spoke in churches, Teen Challenge coffee house, and had our RW seminars with CBN, Teen Challenge and YWAM in the western part of Ukraine. Wynn was interviewed by journalists, a morning talk show, an online show with live questions, and another tv show in a town called Rivne all organized by Alyona who is the YWAM director of Lutsk. It has been estimated that between all the media we interacted with, Wynn's story reached over 2 million people. Praise God!!  My role on this trip was crucial! Not only did I co-teach with Wynn in our seminars, I was privileged to preach Sunday sermons in two different churches and co-counsel several individuals.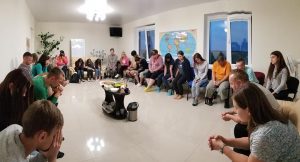 It was a great experience and I was able to share much from my life and my ministry experience working with university students throughout the past 23 years. I also helped organize our prayer intercession each morning. I was honored to accompany Wynn in this ministry invitation and minister right alongside him.  After almost 3 weeks, I was ready to come home to my wife Holly and she was ready for me to be home.  Even though we had video conversations each morning or evening, it was not the same as having Holly with me.  God willing, maybe next year, she will be able to join us.
On a personal note, in two weeks, I will accompany almost 1000 Chi Alpha campus pastors and staff for CMC (campus ministers conference) in Phoenix. Holly will be able to attend with me as well.  We would appreciate your prayers for this strategic time not only for spiritual refreshment and fun but also for divine connections with campus pastors and leaders sharing about our ministry.  The fall semester is right around the corner. I will soon be venturing up to NAU in Flagstaff as well as Embry Riddle in Prescott.  We are doing well and continue to enjoy being married and learning to experience all that God has for us, individually and as a couple!  We both are extremely grateful for God's blessings in our lives!
We love and appreciate you!!  God bless!
Brett